Books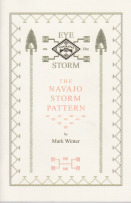 Mark Winter's book, Eye on the Storm, details the history, symbolism and art of the Navajo Storm rug. The Storm pattern appears in J. B. Moore's catalog in 1911 in two forms and became one of the templates for countless rugs thereafter.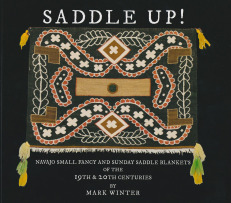 A must-have for every weaving library is Saddle Up! by Mark Winter. This new and exciting publication features Navajo Fancy and Sunday saddle blankets from the 1860's to 2011, representing six to eight generations of weaving creativity. Included are over 100 color plates and insightful text. Accompanying the book is Saddle Up! Side Kick, a flipbook of the color plates included in the main book. The pair sells for $48 plus shipping.
Most of the saddle blankets in the book are on display at the Toadlena Trading Post Weaving Museum. Come see the exhibition after enjoying the Saddle Up! catalog.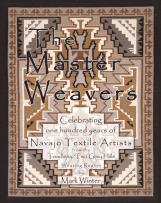 The Master Weavers details many of the best textiles, their weavers and families of the Toadlena/Two Grey Hills region since its beginnings in the early 20th century. It is 608 pages, contains 250 color plates, over 450 historic and contemporary photographs and 23 extensive genealogies of 87 Master Weavers including 2 Legendary Master Weavers, Daisy Taugelchee and Bessie Manygoats.
Published in 2011, The Master Weavers is now a standard for excellence in research of Navajo weavings and culture.