Clara Sherman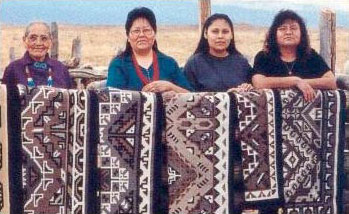 Clara won a
Lifetime Achievement Award
from the Southwestern Association for Indian Arts in August, 2004 and she won a
New Mexico Governor's Award for Excellence in the Arts
in 2006. Congratulations for a lifetime of masterful weaving!
While the art of weaving may be diminishing in the Navajo Nation as a whole, the increasing number of larger, finer work coming into the Toadlena Trading Post every week demonstrates that when the lady weaving the rugs can support herself with her craft, the craft blossoms.
Clara Sherman
SWAIA Lifetime Achievement Award
On May 28th, 2004, 90-year-old Clara Sherman was honored by
SWAIA (Southwest American Indian Artists)
with Lifetime Achievement Awards. Clara has been weaving since she was a child. She has created some of the most outstanding Navajo textiles in existence.
The Museum of Northern Arizona houses the piece shown on the book cover to the left…Our congratulations to Clara. Her honor is well deserved.
Best wishes,
Historic Toadlena Trading Post